Knit It
Learn more about knitting expert Erica Laurell Hedberg!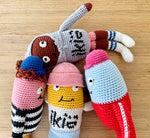 Knit it
Erica Laurell Hedberg is a knitting and crochet design expert. After design studies at Studio Bercot in Paris, she has focused on knitted design in various ways. From knitted fashion, accessories, and children's clothing, arts and crafts exhibitions to making books and knitting courses together with the Japanese Yuka Yamamoto. Today, she is Business Knit Expert at H&M. 
The ikiD dolls
Erica is a real friend of ikiD. The idea behind the dolls we made in collaboration with Erica is that they tell our story and follow along our brand development. They are crocheted in organic cotton yarn and filled with reused – and wool wadding.We hope to be able to make more collaborations on knitting and crochet together with Erica in the future.
Other Dollabs :)
In addition to collaborating with us, she has made many collaborations with fashion brands such as Sonia Rykiel, Missoni, Elder Statesmen and a private collaboration with Pierpaolo Piccioli, designer at Valentino.
Erica says that a dream would be to make knitted haut couture. We say - just do it